Croatia Yacht Charter & Boat Rental
Sailing Holidays in Croatia
(Split, Trogir, Dubrovnik, Sibenik, Vis, Hvar, Pakleni otoci, Kornati,…)
KatrinaM1967
October 12, 2023.
Verified
THIS is the best way to visit the beautiful islands of Croatia! Wow! I can't say enough positive things about our Catamaran Cruise around the Croatian islands with our Skipper Miha at the helm. I booked this for our crew of 7 friends and everyone loved the experience! This was my first time booking a trip like this and Miha was extremely helpful and informative throughout the entire process from booking to sailing. Our Bali Open Space 4.8 Catamaran was amazing and had more ammentieis than expected. Capt Miha had so many great ideas for our itinerary and booked the best restaurant experiences for us! What a fabulous holiday! I have aleady recommend SkipperCity to friends and although I don't normally visit the same place twice, I would definitely go back to beautiful Croatia again and visit more islands.
carolinevanslype
October 3, 2023.
Verified
Excellent Nous sommes très contents de skipper city, Miha nous a bien renseigné et répondu à toutes nos questions.
Zlatko H
October 3, 2023.
Verified
Great yacht booking agency I have used SkipperCity several times. And they have delivered each single time. I would definitely recommend SkipperCity and use them again to book a yacht in Croatia.
Verified
A great way to see the Dalmation Islands! The boat itself was way more comfortable and better outfitted than expected. The plan that was established once we all got on the boat was to sail for about 4 hours to get to. Vis and dock there for the night. Even though the journey was rougher than expected, it was worth every minute. To wake up on the dock was just gorgeous. My favorite part of this whole trip was the combination of dockings and anchorages. Miha had wonderful restaurant recommendations in 2 different locations. The Fisherman's House is not to be missed! And that anchorage was also very special. We crewed the boat most of the time during all dockings and anchorings.
Verified
Family trip with 10 on board. Favorite part of my trip was the ability to be in a bustling waterfront area while stern tied and then the next day be in a remote anchorage with no amenities. Long walks around these ancient towns mixed with crystal clear waters of remote anchorages was the best!
Verified
Week in paradise Our week with Miha and Anja was wonderful. Their recommendations for restaurants and activities were outstanding and Miha really took the time to get to know us and what we would like to see. Onboard food was incredible and I would not hesitate to recommend them!
Verified
Dream (boat) vacation We did a one week family trip out of Trogir with Miha and his wife Anya. Miha was great from the initial email with helping to choose a boat and answering all of our questions. We followed all of his suggestions for everything from the itinerary to where to eat and what to do, and we would not have changed a thing. Everything was spot on. Anya prepared great meals and snacks, and otherwise was so quiet we hardly knew she was there. They are a great team and, if you are really lucky, Miha may even break out his squeeze box!
Daniellekdall
May 27, 2022.
Verified
Highly recommend I booked a week long charter with Miha as the skipper for a girl's trip. He was phenomenal. We felt safe and at ease the entire week. On the first day, he drove us to the grocery store in his personal car to help us with provisioning. We got off to a rocky start when the boat we booked wasn't quite ready in time, but he was able to haggle with the owners to get us some free paddleboards and water toys added on to our boat for the hassle of waiting an extra hour. Throughout the week, he set up dinner reservations for us on some of the more remote islands and arranged taxies for us to do all the excursions we wanted to do. He became family by the end of the week and was truly a pleasure to hang out with during our time in Croatia. Would definitely book him again.
Verified
Sailing in Croatia Sailing on a private charter with girl friends to various Croatian islands sounded very glamorous but potentially dangerous. Miha made us feel safe and looked after, by helping us book logistics for our intended excursions as well as providing honest advice about the local perception. He was also readily responsive to all our grievances as well as our humor and conversation. It was a very fun, comfortable, and memorable experience sailing with Miha as our skipper.
victorsmith87
November 2, 2021.
Verified
A love letter to my Skipper and Chef What can I say? My wife and I spent our honeymoon with Miha and Anya. What an absolutely wonderful time it was! Not only did we get to relax, but we had so many great adventures thanks to the knowledge of our crew. Fantastic food, company, and environment. I will always hold these memories dear since they made our honeymoon a trip to remember forever. Please, PLEASE, if you can, book this trip with Miha and Anya. You won't regret it. We made new friends for life and in today's age, that's hard to do. Well done Miha and Anya, we cannot wait to see you two again in the future!
Rent a catamaran, sailboat or motorboat in Croatia with skipper. If you don't know how to sail, you can choose a skippered charter yacht. The demand for skippered charter yachts is high. You can rent sailing boats, catamarans, and motor boats with a skipper and cook. From our yacht charter offer, you can choose a boat and any skipper who will be in charge of handling the yacht.

Rent a boat in Croatia with skipper
You can charter a boat in Croatia and sail by yourself if you have a skippers license to navigate the boat, as well as VHF radio license, and experience. The bareboat charter in Croatia is one of the most popular and also attractive of all charter options. For people with some sailing experibrce that choose to create their schedule according to their wishes, it is the best selection

Bareboat rental in Croatia
Get spoiled by a fully crewed yacht charter in Croatia on your sailing holidays. A crewed Yacht charter is the most tailored kind of luxury yacht charter in Croatia, which puts on rentals for some huge catamarans, sailing boats, gullet charter and also high-end motor yachts.

Crewed yacht charter in Croatia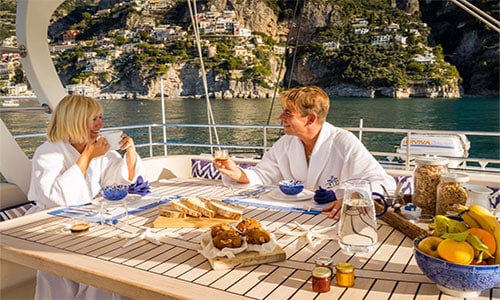 All inclusive yacht charter
You can book all-inclusive luxury yacht charters with your private crew, making them an exclusive vacation for friends and family perfect for a party or special event. Our yachts range from three to six double cabins, each with an en-suite private bathroom.

All inclusive yacht charter in Croatia
Your sailing vacation in Croatia begins here.
Boats you can charter (rent) in Croatia
Gulets and wooden motor sailors in Croatia provide a unique experience of sailing and a leisurely way to explore the Adriatic. All of our gulets are entirely chartered (captain, cook, and additional members of the crew for the larger gulets). Gulets charter in Croatia is a special sailing class. They are designed like traditional Turkish trading ship, this type of boat varies in size from 14 to 35 meters (up to 20 berths) and is very popular with tourist charters. Discover beautiful wooden gulet in Croatia. Rent a gulet here and sail through Istria, Kvarner, and Dalmatia.
Gulets and wooden motor sailors in Croatia provide a unique experience of sailing and a leisurely way to explore the Adriatic. All of our gulets are entirely chartered (captain, cook, and additional members of the crew for the larger gulets). Gulets charter in Croatia is a special sailing class. They are designed like traditional Turkish trading ship, this type of boat varies in size from 14 to 35 meters (up to 20 berths) and is very popular with tourist charters. Discover beautiful wooden gulet in Croatia. Rent a gulet here and sail through Istria, Kvarner, and Dalmatia.
Luxury yachts in Croatia are fully equipped and luxuriously furnished. The crew is taking care of everything on board; everything you need to do is relax and have fun. We offer rental of luxury yacht with or without crew at the lowest price. Chartering a megayacht is an excellent choice because it is fully equipped, and it provides all the comfort and luxury, so you don't have to worry about anything on board. For a stress-free vacation, it is a perfect choice.
Working with the best yacht charter companies!
Great companies. Excelent service!
Croatian sailing holidays for your family and friends
There is recipe for a great yacht charter and best sailing vacations. Here is what you need:
A great yacht charter agency that understands you needs
A great boat to charter with good price
A great skipper that knows the area, the boat and is people frendly
A great support during your sailing
We know how to cook based on this recipe.
Catamaran, sailboat and motorboat rental in Croatia
Looking for boat rental in Croatia?
With almost every boat in charter in Croatia at your disposal, SkipperCity – Yacht Rent – Yacht Charter Croatia is a destination for those who want to sail, explore, and enjoy the gorgeous Croatian coast and islands while knowing they will have a great time sailing.
Find and book all of the yachts and boats available for charter in Croatia. We rent boats in Split, Dubrovnik, Zadar, Sibenik, and Trogir, and we service the Istria, North Adriatic, Dalmatia, and South Adriatic regions.
Our offer of more than 13.000 charter boats in Croatia includes rentals of Sailboats, Catamarans, Motor Boats, Speedboats, Gullets, and Mega Yachts throughout the Adriatic.
For those of you that have a valid skippers license, we offer Bareboat charter boats in Croatia – Clients with sailing experience and a valid certificate of competence, which is required to rent and steer a boat in Croatia without a skipper, choose bareboat yacht charter.
Another option is the Crewed Yacht Charter or Skippered Yacht Charter in Croatia provides you with a nice sailing vacation onboard any boat you choose from and a relaxing cruising holiday through Croatia.
Make sure you catch our early booking and last minute discounts while making a boat reservation in Croatia.
Do you wish to go out on that long-awaited vacation, but you don't know where to begin? Are you looking to find a reliable yacht charter agency in Croatia to help you achieve your desired adventure on a Croatian sailing holiday?
SkipperCity is the answer you seek. We are your trusted and loyal friend and agency who can make your dream of having a wonderful sailing holiday come through.
SkipperCity has been a one-stop shop for everyone who wishes to go on a yacht charter and sailing holidays in Croatia for many years.
Over the years, we worked hard and have grown to become the leading Yacht Charter and Boat Rental Company in Croatia with our unmatched services.
We offer over 13.000 yachts for charter in Croatia! You can find your boat among our selection of catamarans, sailboats, motorboats, gulets, and luxury yachts. And we assure you to get an unforgettable sailing holiday onboard while sailing on the beautiful Adriatic Sea in Croatia.
We have professional skippers and crew, which you can hire with your desired yacht charter to ensure you will enjoy your sailing holiday in Croatia.
Our fleet and offices are located in marinas all around the coast of Croatia. We provide professional assistance to clients, helping them with organizing their nautical vacation in Croatia. We can also assist you in organizing your arrival from the airport to your yacht and boat.
Feel free to browse through our services, boat rental offers and yacht charters in Croatia.
Welcome to SkipperCity!
Boat Rental With Skipper
Yacht Charter Croatia
Crewed Yacht Charter
Boat Rental With Skipper
There is a high demand for skippered charter in Croatia to rent sailboats, catamarans, and motorboats.
In our yacht charter offer, you can choose any boat and hire a skipper who will be responsible for the yacht's maneuver.
The skipper/captain you want to recruit has all the licenses and nautical skills you need, as well as excellent communication skills and a friendly attitude towards visitors or passengers.
He will make the best decisions for itineraries, roads, anchorages, etc. in compliance with your desires and weather conditions.
For a relaxed, relaxing, and carefree sailing holiday, renting a skippered boat in Croatia can be a great choice.
Yacht Charter Croatia
Crewed Yacht Charter
Yacht Charter Boat Rental Offer
Bases and Marinas
Boat booking
Yacht Charter Boat Rental Offer
In Yacht Charter Croatia, we can offer you more than 13,000 boats, which can be rented along the entire Croatian coast and islands.
All types of boats in Croatia can be found, booked and rented easily: catamarans, sailboats, motorboats, gulets and big luxury yachts.
Yacht charter in Croatia includes small boats with 1 to 3 cabins, large boats with 4 to 6 cabins, and luxury yachts for more than 12 passengers. A wide selection of yacht charter sailing vessels and catamarans make Croatia an ideal boat sailing holiday destination. A bareboat or skippered sailing yacht can be rented in Croatia. If you decide to rent a catamaran in Croatia, you will enjoy the combination of sailing and comfort.
Those who prefer pace or cruising will be happy with a surprisingly wide range of motorboats available in Croatia for charter. Motorboat hire helps you to see the Croatian coast and islands as much as possible.
Lastly, Croatia's gullet and motor sailer charter completes this nautical deal to give you a fun and relaxing vacation on our coast.
You can find all special offers and additional discounts here.
Bases and Marinas
Boat booking
Charter Yachts from Split, Trogir, Sibenik, Dubrovnik,...
Sailing and boat rental guides
Looking for boat rental in Croatia?