All-Inclusive Yacht Charters
All-Inclusive and All For You – Yacht charter and boat rental in Croatia
You may book our popular luxury all-inclusive boat rentals in Croatia with SkipperCity.
You may book crewed private luxury all-inclusive yacht charters and treat your friends and family to an exclusive vacation—perfect for a celebration or a special occasion. Our yachts have anywhere from three to six double rooms, each with its own private en-suite bathroom.
An all-inclusive yacht charter
It provides you with the ultimate all-inclusive water vacation. Your group of up to 10 people can enjoy luxurious accommodations and a premium, tailored yacht charter experience, as well as a knowledgeable captain and gourmet chef.
Our crewed boat rental blends the elegance of a luxury vacation with the excitement of adventure travel. You'll appreciate your captain's nautical expertise and local knowledge aboard your private sail or power yacht.
At the same time, your gourmet chef will continue to treat you with delectable meals tailored to your preferences.
Choose from more than 30 marinas along the Croatian coast.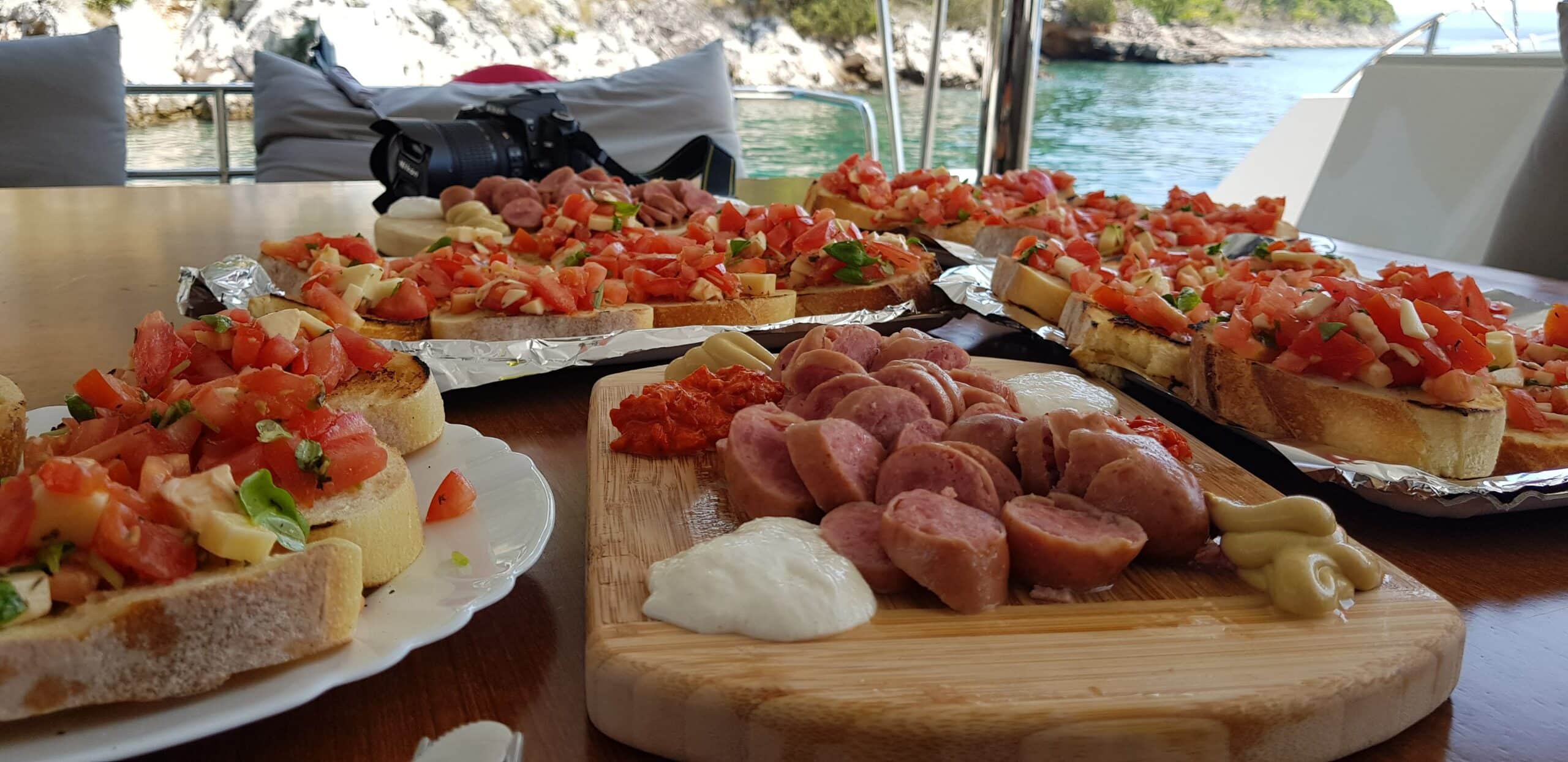 What's Included
Captain and Cook
All meals, snacks, and drinks*
Completely stored Bar*
Watersport equipment
Wi-Fi connectivity
Much of the mooring ball fees
Fuel
Air-conditioning
Our all-inclusive charter destinations
Cruise in Croatia where every anchorage takes you to something different, and every moment on board is unforgettable.
All-inclusive charter yacht charters are available in Split, Dubrovnik, Sibenik, Zadar and Trogir. And no matter where you go, your tastes, from gourmet meals to regular excursions, are still the top priority.
Charter of Croatian Yachts
Mixing Bustling Harbors & Calm Anchorages
Old World Beauty & Historic Places
Scenic Coastlines, Varied

The Crewed Boat Fleet
The crewed charter experience starts with your expertly built yacht, which leaves you with a smooth ride, open spaces, and state-of-the-art features to give you the best onboard experience.
Each yacht's spacious decks and open interiors ensure that you can spend as much time as you want onboard without ever feeling crowded.
How is it working?
Pick your boat
Select a destination
Lie back and enjoy yourself
The ultimate all-inclusive luxury holiday
Discover our exhilarating, all-inclusive sailing vacations and forego the traditional static resort for the ultimate experience.
Our fully crewed yacht charters are designed for those seeking an exclusive, exceptional, and once-in-a-lifetime vacation. Move aboard one of our most luxurious, fully equipped private yachts, where your every need will be met.
Immerse yourself in your surroundings and take in a different perspective every day. Relax on a plush beverage deck as our professional staff attends to every detail for you and your guests.
Our knowledgeable staff will guide you through every step of the planning process to ensure that your holiday runs well.
Please contact our experienced team, who will assist you in making your dream vacation a reality.
Life aboard our crewed, all-inclusive yacht charter
You'll enjoy a comfortable atmosphere onboard our charter yacht team. You can make yourself as much at home as you want. Our crew will provide discreet, five-star service that respects your privacy while taking care of your needs.
It's your break, and our crew blends into the background to help you enjoy your time with your guests.
Plan your holiday to be exclusive
With our crewed catamaran and sailboat charters, you can plan a holiday that nobody else can duplicate. It's personalization at its finest. Make your crewed sailing experience special, from the itinerary to the mouth-watering gourmet menu. We are customized to your tastes.
We have hand-selected the finest destinations in the world and experts in the organization of sailing vacations.
Our dedicated charter team will build your dream vacation anywhere you choose to sail, including Split, Zadar, Dubrovnik, Sibenik and Trogir.
What's a crewed charter yacht?
A crewed yacht charter includes a high-quality, well-equipped, luxury catamaran or monohull yacht for private use by you and your guests.
Your yacht comes with a very professional captain and hostess who will escort you on an exclusive tour of your destination. Your knowledgeable team will cook and serve delicious food and make sure your cabins are spotless every day.
Our crewed yacht charters allow you to customize your route, fine dining, a drink menu, and a water toy where you can add the latest hi-tech gadgets.
We can comfortably accommodate up to 12 guests – both you and your guests can retire to modern, double cabins, each with its own bathroom. You can relax together in the spacious dining and lounge areas and leave plenty of space for sunbathing on the deck.
We handpicked the crew for our crewed sailboat charters, choosing those with the best sailing experience and hospitality skills. Destination knowledge and passion for the area are also significant.
Before you go, you'll have a chance to meet your crew and talk to them about your holiday. Our captains are seasoned sailors specialized in their destination and putting your safety first. Our hostess team is an accomplished chef who works with customers who have a high service level.
The crew we will provide are also your personal tour guides, and they can't wait to share their knowledge of where to go, what restaurants to try, and where to see the best marine life.
Let us help you schedule your holiday with your crew. Please contact our crewed experts.
Gourmet cuisine on our charter team
Your dining experience is a great part of your holiday enjoyment. When you book, you'll be asked to list your dining, snack, and beverage preferences. You can also try local specialities while enjoying the home comfort feeling.
You might want a tasty experience if you're in Croatia, BBQ on the boat, tasty olives and pasta the islands, and fish or čevepčiči in a restaurant. If you want to try new dishes or book a favorite local chef for a special event, we can organize whatever you want to share with your guests.
Relax on board and enjoy delicious delicacies on your private yacht or dine in some of the resort's finest restaurants. Let us help you plan your personalized holiday with your crew.
Why do we prefer crewed sailboat charters?
We're taking care of the specifics, so all you need to decide is where you want to explore and how to spend your time. If you want to lounge on sandy beaches, dine at the finest restaurants on the coast, snorkel with vibrant marine life, or shop shops, we will make your holiday a memorable one.
Our service is
Exciting destinations: we have the widest possible option
Handpicked crews: We want to have experience and expertise
Tailored to your preferences: your holiday, your trip
Discreet five-star service: a resort experience on board
Attention to detail: nothing is too much of a challenge
Flexible – Take a look at our policy on bookings
Your luxury yacht charter is waiting for you
Looking for an exclusive, luxury yacht charter experience that's unparalleled in operation and adventure? Yacht rentals are the perfect opportunity to set sail and experience a particular form of holiday. It's time to turn your yacht charter holiday fantasies into a reality with us.
Choose from some of the most exotic charter destinations in the world to explore, dream, and discover uncharted lands while enjoying the ultimate five-star, all-inclusive luxury.
Life on board
Have you ever wondered what makes yacht charters so unique?
It's the freedom to dive, snorkel or snorkel in turquoise blue waters and discover the fabulous white sandy beaches lined with palm trees and exotic flora and fauna. Or just relax under the warm sun and listen to your yacht's softly blinking waves.
If you're loving the thrill of sailing and being involved on board or relaxing and enjoying the scenery of the secluded bays you're sailing in, Skippercity's all-inclusive yacht charter is the ultimate luxury dream holiday. And unlike a hotel room, our yachts are moving, so we're giving you a new view to wake up to every morning!
Our luxury catamarans are stable and allow you to sit back and relax under full sail. The only thing that can occupy your mind is to watch the dolphins swim alongside you as your Captain cruises to the next hidden spot.
All our yachts have large saloon areas that are great if you want to relax with a book and large cockpits perfect for dining and relaxing with new friends over a cocktail.
And don't forget that with the ladders dropping into the ocean, a cool dip is just a few steps away. If you want to socialize or have a quiet moment, you'll find places on board that cater to your needs. Our catamarans are built to give you the best of both worlds!
Experience The Best Luxury All-Inclusive Holiday
The best forms of holidays are those you don't need to think about. And that's the best thing about all-inclusive luxury vacations with Skippercity. All you have to do is book your holiday, pack your luggage, and look forward to a week of fun, adventure, and excitement. The rest of it, well, just leave it to us!
We are proud to offer our guests a truly all-inclusive luxury experience that begins from the moment you join us for our famous Champagne Welcome, the moment you return home. Your meals and drinks are included in your kit so you can really relax and get the most out of your dream break.
From delicious gourmet meals, fully stocked bars, and a selection of activities, we'll provide you with everything you need to help you find enough energy to get away from those sunglasses and enjoy the very best all-inclusive luxury vacation you've ever had!
What's included in the All-Inclusive Charter?
All-inclusive ensures that most of the expenditures – food, drink, fuel costs, taxes, etc. – are included in your charter fee. You are not expected to hold the expense account open. Instead, before you set sail, you pay a one-time fee, and that's it.
But what facilities are included in your all-inclusive yachting trip? Here's a fast look at this:
Meals – Three chef-prepared meals a day according to your choice.
Drinks – All drinks, including drinks at the bar and cocktails, will suit your tastes. This involves drinks in the ship's open bar, which normally includes a mixture of spirits, wine, and beer.
Snacks – Horses, sweets, and snacks are included.
On-board facilities – use of onboard amenities and water toys, as stated in the yacht e-brochure.
Fees/Taxes – Customs and cruise taxes are included unless otherwise mentioned.
What is not included in the All-Inclusive Yacht Charter?
All-inclusive covers a lot of your costs on your charter, and that's one reason why a lot of people want to book this kind of holiday. It's simpler to prepare and budget for that. However, certain special fees and services are not included.
Dockage fees, for example, are not included, which is a charge charged overnight at the marina. And special beverage requests are not included, either. Here's a peek at some of the amenities that are not included:
Fishing Licenses – If you're looking to do some sport fishing, you're going to have to pay for a license in some cruising areas (not required for children).
Dockage Fees – If you'd like to spend a night in a marina, you'll pay for the expense of electricity and water on the pier. The nights spent at the anchor do not require any extra costs.
Unique Food/Drink – Exclusive spirits, wines, and food products can incur additional charges.
Scuba Fees – If you're planning on scuba diving, you can pay extra fees for gear and permits.
Communications – The use of a yacht's onboard communications facilities is an extra cost. This could include items like computer and satellite phone use.
Transfers – Transfers from the airport to the yacht or return to the airport are not included.
Crew gratuity. Traditionally, at the end of the charter, guests tip the crew; 15% is customary, but the sum is at your discretion.
Does All-Inclusive Include Alcohol?
Most all-inclusive charters include all you eat and drink on board, including drinks from the ship's open bar. However, several charter operators do not have all-inclusive alcohol or just a limited amount of alcohol. As you book an all-inclusive yacht charter, be sure to ask about the alcohol costs (if there are any).
All things included will be clearly marked on your charter contract so that you won't have any surprise exclusions. Traditionally, however, it is unusual for a yacht to charge a surcharge for alcohol.
What styles of yachts are open to all-inclusive
Not all yachts are eligible for all-inclusive charters. In fact, yacht charters in the British Virgin Islands, which offer all-inclusive rates, appear to be sailing vessels – both sailboats and catamarans – and are usually smaller in size.
Sailing Yachts/Catamarans – The reason why sailing yachts and catamarans are more likely to offer all-inclusive charters is that they have much more consistent prices (e.g., little-to-no fuel costs). Plus, the British Virgin Islands is a small cruising area, with a mixture of beautiful islands in the vicinity. As a result, captains will better pre-determine prices, making all-inclusive pricing feasible.
Motor yachts/Supery yachts – Motor yachts and superyachts, on the other hand, seldom offer all-inclusive rates. The explanation for that? Fuel costs for motor yachts and superyachts tend to be highly variable; a last-minute change in itinerary or a rise in fuel prices can result in costs being much higher or lower.
Specials off-season. Some destinations, especially the British Virgin Islands, offer all-inclusive specials during the off-season season (spring, summer, and fall). You'll find far more all-inclusive discounts during off-peak charter seasons compared to high-season winters. Our team of charter brokers has a look at all the latest trends; just let us know, and we can help you find what you're looking for.
All-inclusive Sailing Holidays: Croatia
Croatia is a legendary sailing destination. Here you'll find more than 1000 islands and atolls to discover – like Vis, Hvar, Brač – as well as pristine beaches, diving/snorkeling spots, seaside huts, and a decidedly comfortable atmosphere.
Sailing on the seas is also an enjoyable holiday.
The best boat holidays
are waiting for you…