Catamaran charter Croatia
Catamaran charter Croatia
We are proud to announce that we can offer you all charter catamarans in Croatia, with a skipper. SkipperCity is the only place where you can find complete and detailed offers of catamarans for rent in Croatia.
If you want to rent a catamaran, You are in the right place!

Largest catamaran offer in Croatia
We have the biggest list of available catamarans for rent in Croatia. Whether you need skippered catamaran charter, bareboat or crewed with captain, cook, and hostess, we got it!
We are pleased to offer you catamaran lines like Fountaine Pajot, Nautitech, Bali, Catana, Leopard, Privilege, Prout, and Lagoon. All over Croatia.
Book a cat. It`s easy.
send inquiry

or find your catamaran online

choose a date

submit a request with your wishes

book a catamaran
It`s that simple!
Best price Catamaran rental in Croatia

With skippercity as your charter agent, you get to charter a catamaran that compliments your class and style at the best-guaranteed price. We have many catamarans available for charter in Croatia. Here are some of the catamaran models available for charter;
Catana, Lagoon 38, Lagoon 39, Lagoon 42, Lagoon 52, Lagoon 400, Lagoon 421, Lagoon 440, Lagoon 450, and Lagoon 500, Fountain Pajot Athena, Fountain Pajot Saba 50, Nautitech 40, Nautitech Open 40, Nautitech 441, and Privilege 465.
Catamarans can be chartered in Croatia from Dubrovnik, Pula, Sibenik, Split, Zadar, Trogir, and many other marinas in Croatia. Catamarans can be chartered bareboat, crewed, or skippered.
Catamarans are chartered on the same principle as the monohulls, and they offer more advantages such as comfort, security, stability, and speed. With the two hulls and two keels, catamarans are high-speed, secure, and stable.
With a catamaran, you can enter places where other sailing boats cannot come easily.

You get to have more fun with a catamaran as you can get closer to beaches and less crowded coasts around Croatia. Catamarans have two large engines that ensure their speed, and you can enjoy the speed while sailing at sea.
Catamarans have enough room to accommodate up to ten people plus crew with plenty of space for everybody.
Despite their size, catamarans have shallow drafts, which are ideal for anchorage at bays. The beautiful vessel is in high demand in Croatia as everyone wants to experience the excellent feeling of sailing in one of them.

It is advisable to book in for a catamaran in advance let's say six months early to be able to get one available for your sailing holiday. The high demand for catamarans in Croatia has brought about a high charter price and a more expensive berth in marinas.
Although the demand brings about high charter prices and a more expensive berth at marinas, Skippercity, we offer catamarans for charter at the best-guaranteed price so our clients can enjoy the comfort of a catamaran in style without putting a hole in their pockets.
We offer over 900 catamarans for charter in Croatia. Contact us today and get a quote.
Catamaran offers excellent and safe cruising at sea with great comfort, luxury, and style. You can enjoy your long vacation on a 14m catamaran. It mostly comes with three to five comfortable cabins.

The price of hiring a catamaran of this grade range between 5,000 – 20,000 EUR for a standard charter, usually one week hire. Bigger catamaran mostly has four cabins, but there are other models with three or five cabins.
They provide comfort, luxury, and are quite economical. The price of a standard charter, usually one week, ranges between 3,000 – 25,000 EUR.

Other models with three to four cabins, which are great for a vacation for couples, family, group of friends, offer exceptional comfort, and the price of a standard charter usually one week range between 2,000 to 25,000 EUR.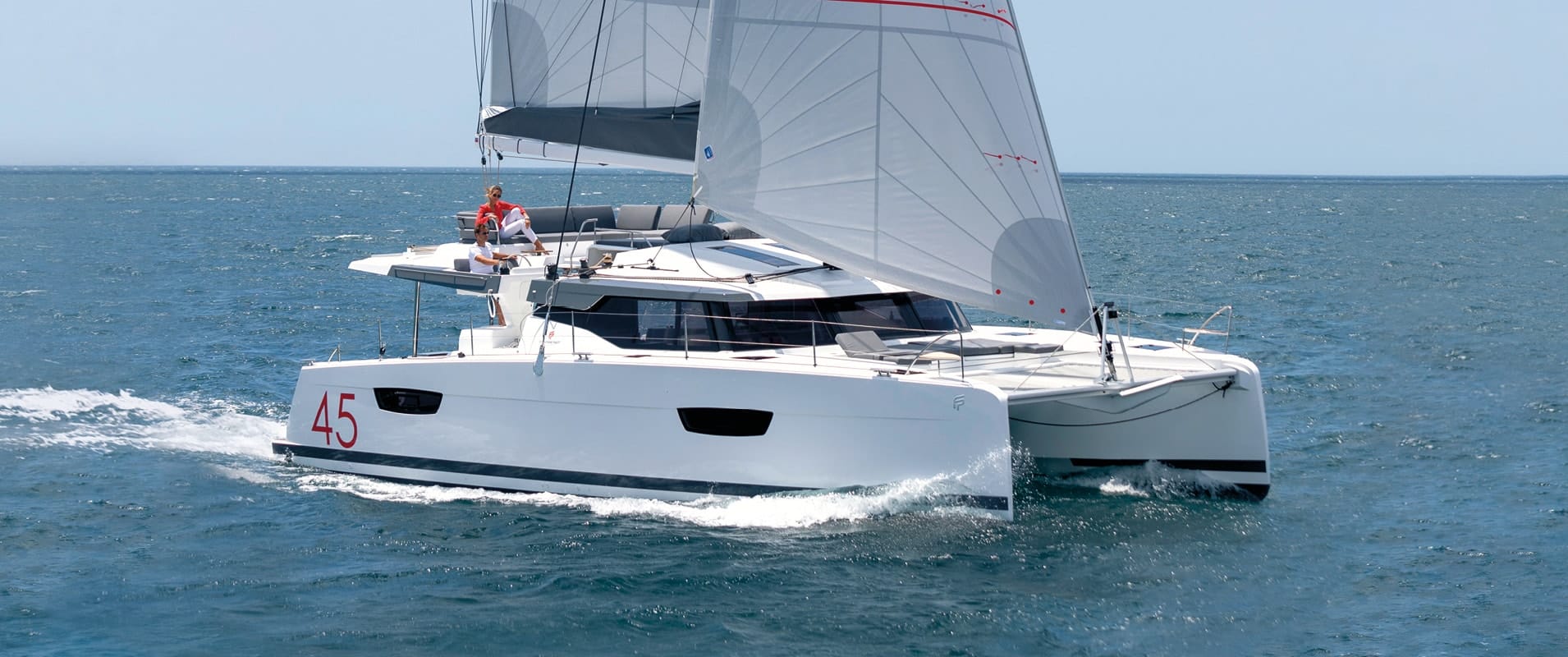 Advantages of catamaran charter
Very spacious

More privacy in cabins and every room

Very stable

Sails faster

Shallow drafts for entering shallow places in the marina and also small bays

Safer on water
The disadvantages of catamaran charter;
Does not sail too well when faced upwind

Too stable to enjoy sailing

Anchoring and tracking techniques are different
Multi-hulled boats, such as catamarans, are a special sort of boat. They are the roomiest and most sturdy type of boat since they are made up of two hulls joined by a big body. Because of their roomy interior and easy access, they are particularly popular with families and big parties.
The cabins of a catamaran have a lot of space and headroom (beds are longer and more extensive), and the saloon and galley are on the same level as the cockpit, which allows for a panoramic view and easier access inside.
Catamarans are very useful if there are tiny children on board: they are stable due to their wide-body, they are low and have a swimming ladder, making it easy to jump on board from both land and water, and they are roomy enough that you do not feel cramped.
In addition, unlike all traditional sailing yachts with a keel, they allow you to approach the coast quite near and anchor in shallow waters, little bays, and hidden spots.
Catamarans typically have four to six staterooms, allowing them to comfortably accommodate eight to twelve people – ideal for the entire family.
They also have the advantage of being easier to navigate than traditional sailing or motorboats. On some points of sail, such as a beam reach and downwind, a catamaran normally sails quicker than a monohull.
They're ideal for a relaxing, pleasant voyage for you and a large group of friends and family.
In Croatia, catamarans and multihulls are in high demand for yacht charters. Because of the tremendous demand, we recommend scheduling at least six months in advance.
Catamaran Charter Croatia –

the biggest catamaran fleet in Croatia 
Are you looking for a good catamaran charter? Or are you looking for luxurious rentals for catamarans? Whatever your budget or the duration of the sail, we have the largest fleet to choose from.
We only deal with yachts of high quality, and for less, we make no compromises. Whether you're sailing from Split, Dubrovnik, Zadar, or Kornati, we've got catamarans in every region.
You may rent a catamaran and pick between sailboats and powered ones for a week with a skipper or bareboat. Enjoy and discover the gorgeous Croatian islands and coastline. We have highlighted our service in numerous locations as part of the bigger Blackbird Yacht Charter, and we are now known as Croatia's strongest catamaran charter!
Why Rent Catamaran in Croatia?
Make sure to check our rental offers for sailing catamarans when planning a Croatian vacation. Catamaran charter prices will surprise you with the development of charters in this Mediterranean country.
Previously reserved for rich people, multihulls are now affordable to practically everyone. Besides acceptable prices, when you go on a 7-or 14-day adventure yacht trip in Croatia, a wonderful mixture of art, history and elegance will be found.
Everyone has their interests when it comes to travel and adventure, but perhaps the best part when you hire a catamaran in Croatia is that there's something for everyone.
And if you're one of those people who want a little of everything, you'll be delighted to know that in luxury catamaran rentals, you have a perfect combination of everything here. Whether it's sunset spots, wine tours, or biking, here, you'll find it.
Those with different tastes will also not be disappointed with their experience of Croatia sailing and adventure.
Catamaran
Charter
Croatia
SkipperCity, a Catamaran Charter Croatia provider, is a company specializing in catamaran charter in Croatia. We have the required experience, logistics, and technical support as part of the Blackbird Yacht Charter team.
Because of the excellent sailing experience catamarans provide and the extra space for adults and children on board, catamarans are becoming increasingly popular with yacht charter in Croatia with every passing day.
Also, don't forget to check our all-inclusive catamaran charter packages.
Whether you want to rent a catamaran in Croatia for smooth sailing or the construction of corporate teams, to go on nautical tourism, or to enjoy your holiday in any other way, the company has a new and well-maintained multihull private fleet.
Our technical team is responsible for catamaran quality, maintenance, and preparation. With great advice on how to plan what to pack for catamaran vacations in Croatia, we will also help you arrange the journey.
With no hidden costs, our fast and reliable services are entirely transparent. Our experts carefully plan an ideal catamaran charter in Croatia for you and your family members to meet all your budgetary and other needs and requirements for every customer.
Catamarans fleet for sailing holidays in Croatia 
For sailing holidays in Croatia, there is a large fleet of over 500 ships from which to choose: Sailing Choose one of our sailing cats such as Lagoon 400 S2, Lagoon 42, Bali 4.3, or Fountaine Pajot 44 at a great price and spend unforgettable catamaran holidays in Croatia.
Power If you don't feel like sailing, electric boats such as Lagoon Power 44, Sunreef Power 70, or Lagoon 630 Motor Yacht are always available for rent. Very spacious and on the sea stable.
Luxury We have the most luxurious large crew of catamarans in Croatia in our offer. You can hire Lagoon 620 or Lagoon 52 and enjoy your vacation while our team will take care of all the rest.
Why rent a catamaran with SkipperCity?
By renting a catamaran at SkipperCity, you get the under noted distinct advantages: the largest fleet of catamarans in different sizes to match all budgets.
Right from the moment you make an inquiry with your specifications and plan, prompt response, and personal attention.
Total value for money. While the catamaran you rent may not be Croatia's cheapest deal, it will undoubtedly be the best price you can find anywhere.

Fast reservation and verification online.

Secure payment and confidentiality of all your details and information.

Numerous starting bases from which to choose.
Catamaran Charter Croatia
Why is the catamaran charter gaining popularity in Croatia? Croatia's Mediterranean nation comprises over 1,000 islands and has a long Adriatic coastline, making it ideal for private catamaran yacht charter. The country has a rich cultural heritage between the Balkans and Central Europe.
There are many attractions in Croatia. You can go to Dubrovnik and check out the famous old town, the filming sites of Game of Thrones, or visit the city wall. You can spend some time in Split visiting the Roman Diocletian palace, or many local wine festivals and fairs. If you miss the above, rent a catamaran in Croatia and visit the Central Adriatic with Kornati national park.
Or you could try Istria and the Gulf of Kvarner. Istria is Croatia's largest peninsula, and the Kvarner Gulf islands are a paradise for seafarers. This area is filled with old towns, beautiful beaches, and many small islands along the coastline, perfect for catamaran cruises.
We have Catamaran Charter Croatia links on every island and marina. We'll help you save money by obtaining enticing discounts and offers at various restaurants and party places.
The professionals will also assist you in purchasing all of your food and beverage products before receiving your license. Croatia sailing vacations provide spectacular natural beauty, intriguing architecture, a rich history, outstanding wines, nice and welcoming people, and delectable seafood.
The island-speckled coastline of Croatia with crystal clear water and beautiful white beaches with pebbles will leave you spellbound. Add to the natural beauty the Dinaric Alps that stretch from Italy to Albania and hug the Adriatic coast.
We have a lot of yachts to choose from, from open sailboats for rent, luxury yachts to traditional crewed gulets.
Charter Croatia Bases
With bases in Split, Trogir, Dubrovnik, Pula, Sibenik, and Zadar, we cover a wide range of sailing areas. So, whether you want to see the Kornati archipelago, Mljet National Park, or the stunning caves on Vis Island, a catamaran is available.
Croatia's crystal clear blue water is becoming increasingly famous and appealing in the nautical world as new and more luxury vessels enter the market.
The best time to rent a yacht in Croatia is in the summer, when the weather is calm between May and September, providing an opportunity for quick sailing charters.
The Dalmatian coast, with average temperatures between 23 and 30C, is characterized by hot, dry summers and mild winters. Here you can find out what to pack for various parts of the sailing season.
Additionally, the Adriatic coast is stacked with dreamy coves, beautiful old towns, bays, and sunny beaches where you can enjoy delicious local specialities such as grilled fish, spit lamb, prosciutto and fabulous wines.
That's why we're following this trend, and our returning clients are increasingly recommending sailing in Croatia. Choose and enjoy one of the recommended roads.
When booking a sailboat, powerboat, or catamaran hire in Croatia, pay close attention to the restrictions and skipper license requirements. A valid nautical license, as well as navigating and sailing skills, are required to charter a boat.
Please contact us for further information on valid licenses approved in Croatia. If your current permit isn't accepted, a short sailing course can be organized to teach you the necessary practical and theoretical abilities.
Stability and comfort of a catamaran
For improved stability, Catamaran has two connected hulls. Despite the fact that the principle of a single-hull and multi-hull sails are the same, the latter provides higher stability, speed, and comfort due to the presence of two hulls and two keels.
When it comes to beam range and downwind sailing, a catamaran outperforms a monohull. A yacht is an excellent option for you, your friends, and your family to enjoy a relaxing and comfortable cruise.
With 4 to 6 staterooms that can sleep 8 to 12 people and a wide main deck outdoors, the catamaran will be an excellent choice.
Why rent a catamaran?
Catamaran charter Croatia is your best choice if you want to sail, but also love the extra space on board. In all Adriatic sailing regions, we sell a wide selection of more than 600 different boats.
With brands such as Lagoon, Fountaine Pajot, Nautitech, Bali, and Catana Cats for rent, our fleet is made up of brand new catamarans and well kept older yachts at a reasonable price.
Although these vessels are more comfortable to manoeuvre in tight spaces due to their two engine configurations, they are still much larger than regular monohulls, so they require special attention in marinas.
Such yachts are generally faster and more robust than standard sailing vessels, something that both families and experienced sailors appreciate.
What do I have to do to book a catamaran?
So, you don't have to plan a big holiday in Croatia or rent a catamaran because rental prices aren't expensive as they used to be. You decide from where you want to fly, the date of departure, the time of arrival, and the price range.
The experts at SkipperCity, Catamaran Charter Croatia provider, will do the rest of the planning most cost-effectively and conveniently to enjoy a perfectly comfortable vacation.
They will even allow you to take full advantage, as applicable, of their early bird offers, last minute offers, and other special offers.
What's your right choice? We'll be happy to help you find the right yacht style to fit all your needs for a perfect yachting holiday. Give us an application, and we'll direct you through the entire booking process of Croatia's catamaran charter.
Book & Sail the Best Catamaran Charter Croatia
If you want a perfect escape from the pressure of everyday life, our catamaran charter in Croatia is the only thing that stands between you and the experience. For various destinations such as the Dubrovnik area, Split area, Zadar, and Kornati area of Istria, we have hundreds of catamaran charter Croatia available.
Whatever you want, your sailing around Croatia should be as relaxing or enjoyable as you want, and our yacht charter is perfect for making your dreams come true. We take away your worry and let you focus solely on the exciting coming Croatian boat trips.
Just tell us your desired destination, dates, and number of guests you would like to accommodate, and let us choose the best Croatian charter for you. We can give you a wide range of yacht rentals so you can choose the one that best fits your needs.
Croatia Catamaran Charter
Bareboat 
We have the best sailing catamaran for you at the lowest price if you want the experience. Select the best ones such as Bali 4.1, Lagoon 39, Lagoon 40, or Nautitech Open 40 and join the most adventurous yacht fleet in your next bareboat holiday.
Skippered 
There is never a perfect time to enjoy sunsets and events like birthdays, weddings, anniversaries, holidays, or just a day with our professional skippered catamaran charter Croatia to respond to the call of the sea.
Fully crewed 
Visit the stunning Croatian islands with a private crew on your yacht, allowing you to swim, snorkel, or soak in the sun. Our yacht charter skippers are professional and experienced. We have the best Lagoon 52, Nautitech 47 Power, Sunreef 50, or Lagoon Seventy 7 charter boats.
Catamaran Croatia Charter 
You are only after an experience that is temporary but long-lasting. The most important thing is to take advantage of the adventure — to be happy — it's all that matters.
You might buy yourself a sailing boat, but why would you like it? You can never go wrong with a catamaran charter if you want to sail Croatia, and you want to do it in style. A standard sailing boat provides more space, comfort, and stability.
SkipperCity, Catamaran Charter Croatia provider is a brand, created to make your boat trips to Croatia more engaging, lively, and meaningful. Our professional charter company is based in Split, Croatia, and has been offering personalized luxury yacht charters in Croatia.
Personal Touches at Every Turn
Through their originality and attention to detail, we affect vacations that stand out. We have access to a lot of incredible promotions, vacation packages, last-minute travel opportunities, and more.
Expert Guidance
Our skippers are qualified experts in the destination who can give the best cruising experience. Our booking managers will be at your fingertips to help you find the best-suited catamaran charter in Croatia with attentive consideration for every client.
Our community is here to help you if you want to hire a catamaran in Croatia for recreation, sailing or corporate team building, sightseeing, visiting national parks, or just relaxing in the sun.
Select your charter destination
As yacht charters in Split, Croatia, catamarans are in high demand as the country provides perfect catamaran sailing conditions. In Croatia, Catamaran Croatia Charter has more than 200 Catamarans available for charter, offering well-known models and manufacturers such as Nautitech, Lagoon, Sunreef, and Astrea.
Catamaran charter will move quickly through the sea. Catamarans' large size makes them ideal for sailing ships that can fit up to 15 people to travel and party. Besides, their simple designs make them suitable for fishing because they can go easily in shallow waters.
If you're looking for more adventure, without giving up on comfort and space, Split's catamaran charter, Croatia is the way to go.
Planning a vacation in Croatia on a catamaran?
Have you checked our rental offers for sailing catamarans? We have the largest fleet of more than 200 catamarans across the coast of Croatia, all big marinas. Our customers can book Bareboat, skipper, or crewed catamarans. Our core values have never changed over the years: we serve different destinations like Dubrovnik, Split, Zadar, and Kornati or Istria.
We are committed to excellence in customer service.

Various manufacturers ' fleet and chartered models to suit every occasion.
Let's continue the fun! Choose your yacht charter! You can contact us directly or ask for a quote on the available boat designs.
Why book catamarans with Skippercity?
We believe that every customer deserves a quality life here at Catamaran Croatia Charter Split, Croatia. Therefore, we see it as our ultimate goal to ensure exceptional quality rental service. This philosophy is the basis on which the Catamaran Croatia Charter is built–one that always puts the client first.
We guarantee unrivalled service and absolute professionalism at the Catamaran Croatia Charter
We have our operating bases 

We have a team of well-trained, full-time skippers
What's more?
Free reservations:

 Reservations of a charter yacht via Catamaran-Croatia-Charter.com are available, with no additional costs.

Lowest prices:

Catamaran-Croatia-Charter.com guarantees the lowest SPECIAL catamaran rental prices in Croatia for all our customers 100 per cent.

Secure reservations:

 We are 100% user-friendly and secure. Personal data of users only apply to our contract. GDPR fully protects all our customers.

More destinations:

 We have yachts in all of Croatia's larger cities and are expanding every year.

More boats to rent:

With more than 600 charter yachts on the website and 11.000 charter yachts in the Blackbird Group yacht charters group, such as sailboats, motorboats, catamarans, and luxury yachts gulets, we can offer you everything you need.
Our locations
Rest assured, we will help you shape a life-changing experience, regardless of your destination. Our professional yacht charter team will assist you in any way you like, knowing every corner, island, or marina.
We have partnered on every island so that in restaurants and party locations we can also offer you discounts. We can also make reservations in the marinas, help you buy all the food and drinks before the charter, and even during the charter period so you can enjoy a great sailing holiday.
Our venue, centred in Split, Croatia, is close to some of the most desirable destinations in the Adriatic region, including the fascinating areas of Istria to Kvarner, Zadar, Šibenik, Split, Pula, and Dubrovnik. These are the main areas in Croatia, and we are selling our catamarans around these areas.
If you need a yacht in another marina, we can take you there, such as Baška Voda marina, Kornati marina, Šangulin marina, Kaštela marina, Punat, ACI Split, Dubrovnik marina, ACI Opatija, Marina Hramina, Bunarina, Veruda, Frapa marina, Zenta marina Split, Trogir marina and more.
If you don't know how to start planning, or you're uncertain, you don't have to worry! We're going to help you explore your options, and together we're going to create the right boat trip for you.
Comfort & stability
Thrill the "whoosh!" of our charter catamarans. You will find the comfort you need inside. Outside, in Split, Croatia, is a beautiful city. We customize our catamaran with up to 4 luxury cabins for maximum comfort with creativity, taste, and flair.
The catamaran is much broader than a sailing boat, which is why they are more stable than other yachts, but because of larger cabins and bathrooms, they are much more comfortable, you can feel like a king on the sea in his castle!
As catamarans in the water are more stable, there are fewer chances of tipping over. If they take water, they usually don't sink because they're made with wood, which gives them natural buoyancy.
Catamarans have several watertight compartments that, if any area is punctured, can hold the boat afloat.
You wouldn't do anything with our crewed catamarans chartering Croatia–and that's the idea! You can laze on the beach, read a book, party over some of the other islands, and watch the sunset. You can take a swim if you feel more energetic.
Finding the best catamaran charter in Croatia can be daunting, given the options available for your sailing holiday. You landed at the right place if you want to rent a yacht charter for a day or a full week!
Catamaran Croatia
Choose your preferred maker of catamarans for charter in Croatia
So How Do You Feel About This?
If you like to explore and learn interesting facts, it's just for you to rent a yacht and sail the seas in Croatia. It gives you the chance to explore something new on a yacht of your choice and have a fantastic adventure.
Sailing in Croatia on a Catamaran is a great way to discover new places and destinations. Charter a catamaran in Croatia and discover beautiful beaches, crystal-clear water, and guests.
Reserve your vacation on time!
If you need plenty of space, stability, and speed for your perfect sea vacation, the catamaran charter is undoubtedly your choice. Although both sailboat yachts and catamarans have the same concepts of sailing, they are more balanced and quicker as well.

The best boat holidays
are waiting for you…