I can only speak for skippers and hostesses aboard small sail boats and catamarans in this. I know nothing of the life of crew aboard private or super yachts – maybe one day. Though, what I can tell you about the daily experiences of the kind of crew I know is joyful and warm.
In the summer it's true that we stay up later in the night, wake up earlier in the morning, nap more during the day, and by standard, drink a little more – in all cases. Regardless of being a crew member or a guest on holiday, it's about enjoying where the warm winds takes you. Think; from restaurants and rooftop bars, to secluded bays for swims and fishing in the blue.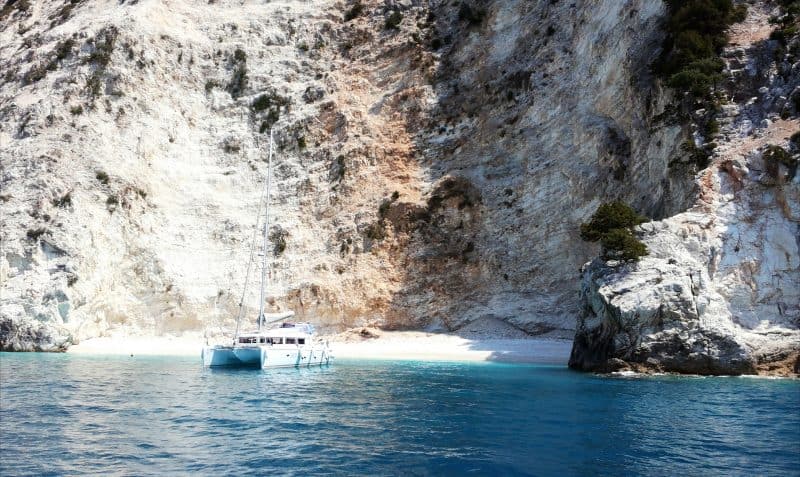 Between the weeks, we meet a cocktail of guests and crew. That's the norm. Every week, a new skipper, and every week, between 2 to 8 new guests. Usually a new boat. Oh, and sometimes a new route. Multiply that by around 10-12 weeks of the season for most crew, and you've met anything close to a hundred people – and that's just the guests? Count other skippers and hostesses, potentially guests from other boats, and locals on the islands that become more familiar by your regular visits to the towns – that's a social pot luck that's not for the faint of heart.
SKIPPER
If you are an experienced sailor yourself, bravo! As a guest, your first instinct is then to probably not employ the handiwork of a skipper for your holiday. You have the wits and will about you and adding a skipper as part of your crew is just a kind option. This, of course, all depends on the kind of holiday you may hope to have.
I've known a number of guests who are licensed sailors themselves yet still choose a skipper to join them. For most cases, it's to have the helpful knowledge of a local in what is already foreign seas. They can tip their way into the marinas for you; or book ahead for a mooring, but that's luck of the draw. Nonetheless, a skipper simply provides guests a chance to holiday at their will, and to practice their sailing at their will. In truer terms; to nap in the sun as desired and to help the skipper out at moorings, anchoring or when fuelling up. Either way, the daily routine of a skipper is more or less the same each day.
Wake up, release moorings or pull up anchor, make way for the next destination, sail depending on winds, socialise with crew, and make sure the yacht is safe at it's final destination of the day. Take note; I would never say a skipper's job is without stress or huge responsibility, as with the role, this is also part of his or her week.
I'm yet to meet a skipper who doesn't drink coffee in the mornings, and beer in the afternoons. And to meet one who isn't willing to throw the sails out at the first whiff of winds around 9 knots? That will be the day!
HOSTESS
Since being a hostess myself for two seasons, this role is probably the easiest for me to describe. My experience with sailing began in the summer of 2017. I worked as a volunteer hostess for a company for 12 weeks of the season. 9 weeks in Croatia, and 3 weeks in Greece. The season that taught me my wits in the industry. When mentioning a full season of volunteer work, most jaws drop and some eyes water.
A hostess can be your "go to", your "one stop shop", for information regarding the local area. She is there to greet you when you arrive and there to greet you in the mornings. Depending on the company that you charter your boat from, she can be a hostess or a cook. Small differences define each role but she is basically there to help you enjoy your holiday with ease. She is there to cook, keep the boat clean and orderly, help you book any restaurants or activities you would like.
A day for a hostess is one with an early start and a late finish. She is up around 6am-7am (depending on your agreed breakfast time) to cook and prepare. Countless mornings I was running around to the markets and shops as the marina woke up to get fresh bread and fruit for the day. Once breakfast is done by guests and crew, she cleans, and helps release mooring lines. Lunch is a few hours later, with perhaps some snacks before hand. With some cleaning, she's usually done until mooring/anchoring/other to help the skipper. Accompanying or advising guests of the sights to see and places to be is the last thing of the day, once the yacht is safely moored for the night.
GUESTS
Nothing to complicate here.
Your day will start off when you want it to. If you've pre arranged with your skipper and hostess to wake up in a new bay for breakfast, then that's the go! Otherwise, it's wake up time in the same spot you moored/docked/anchored/buoyed in. Sail the day away, eat great food, enjoy water sports and swimming, read, sunbathe, get your fancy frocks on for the evening, have dinner and see where the night takes you. Repeat every day!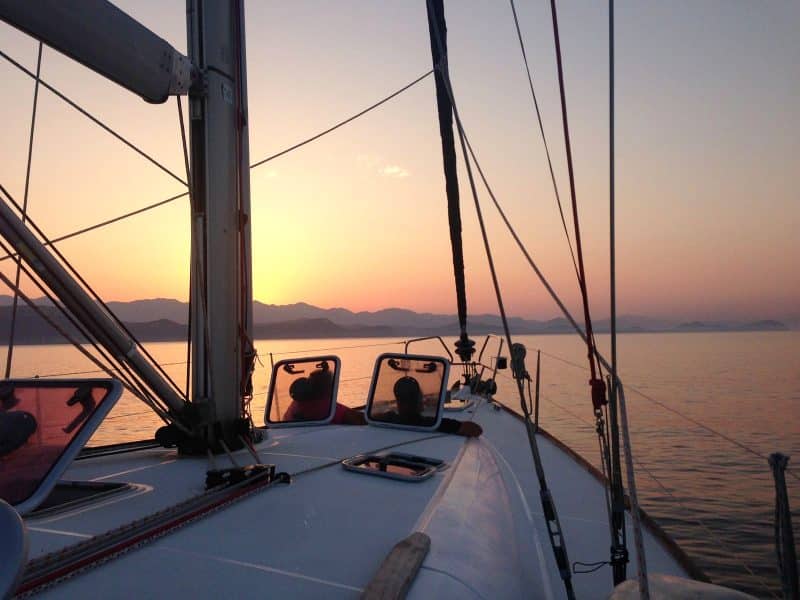 Fair winds!
Published by: Satya Sebenik